Roselle Cold Brew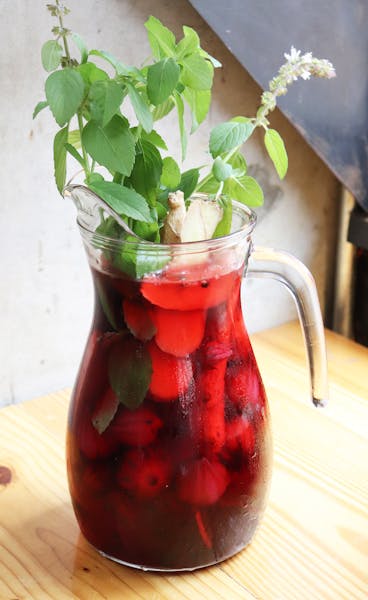 Photo: Ajna Jai / Contributor
Roselle, a plant in the hibiscus family, rich in vitamin C, iron and antioxidants — is a rare sight in Houston, but it is eaten in many parts of the world, including Africa and the Caribbean islands.
A revered green in many regions of India during the monsoon, with red-veined leaves and a tart flavor, roselle is often turned into a pickle, a vegetable dish or a salad. My favorite way to eat roselle is to dice just a few greens and add them to a curry or a dal at the end of a meal.
Roselle pods, with their brilliant red color, have many applications. Combine the pods with yogurt for a stunning salad dressing or with aromatic spices such as cardamom or cinnamon and herbs like mint or basil to make a hot infusion. Even water infused with roselle pods can make for a stunning cocktail or drink. One of my favorite farms in Houston, Plant It Forward, delivers fresh roselle every fall, and its tables at the Urban Harvest farmers market are filled with gorgeous leaves and pods.
With summer's end in sight, a cooling roselle brew infused with ginger, black peppercorns and basil leaves can hit the spot.