Pomegranate Greens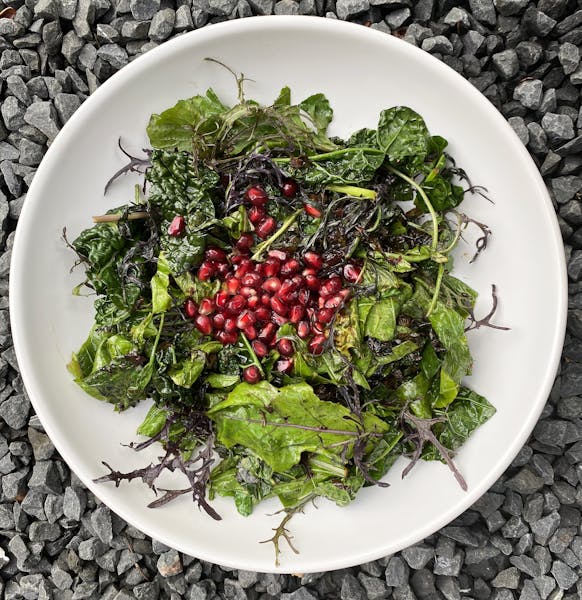 Photo: James Lenhart / Contributor
There is nothing like a new year to distance us from memories of unkept promises and usher in sentiments of new beginnings, sparkling optimism and iron resolves. Last year was full of surprises and, as for many of you, my family living arrangements changed. My daughter Ajna now lives with me, and though that brings me untold joy, I slide in a few demands. Eating more local sautéed greens being a big one — I looked for ways to make mustard greens or Swiss chard palatable without dousing them with ghee or cream. It was a challenge at first, but as always in my kitchen, spices are the answer. I also turned to greens' best friend.
Pomegranates have a rich world history. The South Indian name for the fruit is said to be a beautiful metaphor for a woman's mind: The seeds of the pomegranate are hidden in the way the mind of a woman is not easy to decipher. Originating in Persia but now cultivated worldwide, the pomegranate has long been associated with fertility, rejuvenation and eternal life. The seeds add a delightful piquancy to green salads, and their refreshing juice can be used in cooking.
Slow-cooking the stems of the leaves with pomegranate juice, cumin and cinnamon first softens them to a delicious soft consistency that plays well with the texture of barely cooked leaves. Much to my delight, Ajna is now eating these by the bowlful for breakfast — I hope you enjoy them, too.