Green Vegetable Curry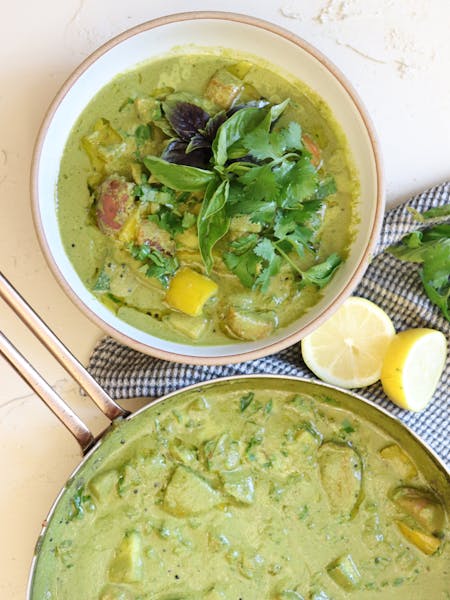 Photo: Ajna Jai / Contributor
As cooler weather approaches, I begin to imagine comforting warming curries and stews bright with fresh herbs — particularly basil, which is at its peak growth now.
While most people think of green curry originating in Thailand, southern states in India, the cuisine of Sri Lanka and Myanmar also encompass fresh aromatic herb pastes and masalas.
During my childhood, my mother would buy large quantities of seasonal herbs and assign one of her helpers to make green masala with a horizontal stone mortar and pestle called a "sil batta." This often took upwards of an hour, but what emerged was a bright, rich thick green paste that would be batched in the freezer to produce green-tinged curries for our family to enjoy.
Fast-forward to current cooking techniques: A blender or food processor does just fine and is what I used to make this curry, which is reminiscent of Thai and South Indian food. I made it entirely with vegetables, but feel free to add meats or seafood — in either case, be sure to cook everything in the curry before adding the green herb sauce. Just before serving, add the green herb sauce to keep the colors bright and the flavors vibrant.