BeautyBerry Panna Cotta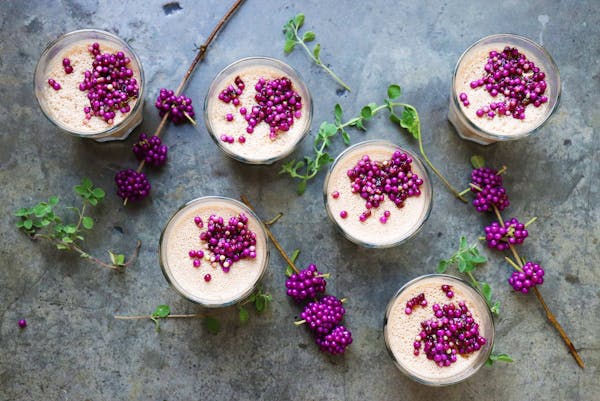 Photo: Ajna Jai / Contributor
If we are open to surprises, there are plenty along the way and never a dull moment in life. I spent a couple of weeks at a ranch in nearby Navasota and discovered beautyberries, a native wild Texas plant that blooms in late summer.
Beautyberries are all over Texas, on roadsides, in forests — their stunning pungent purple berries forming brilliant large clusters. Native Americans use these berries, their roots and stems for many medicinal purposes from mosquito repellents to stomach ailments. The raw berries are slightly sweet and astringent in flavor.
At the ranch, I topped off my salads and quinoa pilafs with beautyberries and drank tea made from the leaves to prevent mosquito bites. Often used to make jellies and wine, they are also commonly planted in landscape designs to attract wild bird species including cardinals, mockingbirds, finches and woodpeckers. Combined with roasted corn and cinnamon, their flavor in this panna cotta is haunting, mild yet delicious.