Tomato Foccacia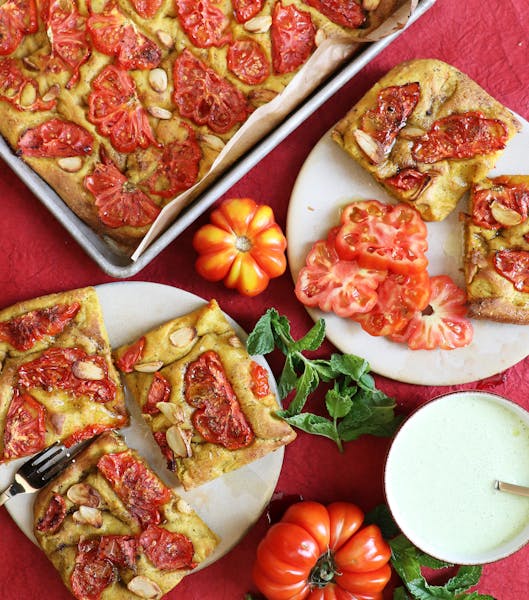 Photo: Ajna Jai / Contributor
Many years ago, a friend and an expert German baker in Houston gave me a lesson in breadmaking. Within a matter of a few hours, while trading food secrets and stories, I watched him transform flour, water, yeast and a few other ingredients into crispy, delicious focaccia.
From time to time, I have adapted that recipe and played around with different toppings, from braised leeks and artichoke to simple herbs and cheeses. At the farmers market this week, when I spotted these gorgeously sculpted heirloom tomatoes from Goodthyme Farm in Bellville, focaccia topped with sliced hunks of tomatoes flashed through my mind. They turned out to be just as juicily delicious and flavorful as they looked.
Adding turmeric and other spices to bread doughs has become commonplace in our kitchens. But for the uninitiated, even tiny amounts of turmeric will extract moisture, leaving the dough dry. This can be compensated for by adding more liquid.
A refreshing mint yogurt to cool the heat in the tomatoes and garlic makes for a delicious dipping sauce. Enjoy it for breakfast with scrambled eggs or sliced avocado.