Sai Bhaji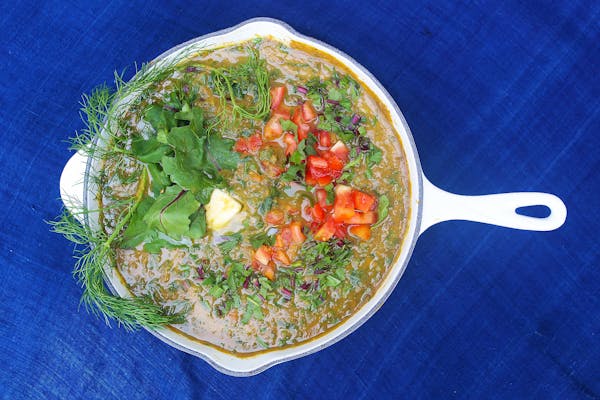 Photo: Ajna Jai / Contributor
Sai bhaji, which simply means green vegetable, is an age-old staple from the province of my vanished homeland, Sindh.
After the India-Pakistan partition in 1947, like many others, my parents migrated to India dearly holding onto food customs as tender memories of their exiled community. Not the most attractive of dishes but delicious when made right, sai bhaji is popular with Sindhis because it's easy to prepare. It is also highly nutritious with an abundance of vegetables, can be prepared with a minimum of fat and is commonly eaten during winter. As with most Indian stews, every family has its own version, but for the most part, it consists of channa dal slow-cooked with root vegetables, leafy greens, herbs and aromatic spices.
I have mixed memories of sai bhaji as a child. Depending on the vegetables at hand and time allowed, my mother would fuss over it all day and lay out a luscious stew with notes of fennel, cardamom and ghee for dinner. Other times it was rushed into a pressure cooker and tasted more like vegetable gruel. I had abandoned cooking it for years, but lately I have been finding ways to bring back the magic of sai bhaji using local seasonal vegetables. Late winter and early spring is definitely the best time to make it when fresh fennel and fenugreek, which I consider integral to this dish, are in season.