Saffron Pasta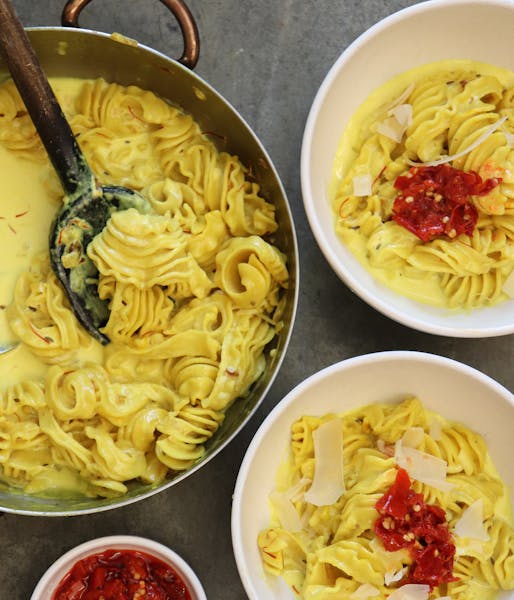 Photo: Ajna Jai / Contributor
In India, there is a saying that goes something like this: On every grain of food is written the name of the person destined to eat it.
During an intense period of cooking and photographing food this summer and not knowing what to do with some of it, one afternoon I offered to take a few things over to restaurant regulars Joe and Julie Mashburn, who live near me.
Joe Mashburn, the long-standing dean of architecture at the University of Houston, had recently gotten a diagnosis of late-stage cancer, and we all knew he had just months, if not weeks, to live. Joe had decided to forgo treatment, instead choosing to spend his final weeks enjoying life in any way he could. He had a voracious appetite, and food seemed to delight him to no end.
This went on for a few weeks as my cooking marathon continued until one day, I dropped off a creamy saffron pasta that I had been experimenting with. Joe enjoyed every bit of it, but his energy was waning. It would be his last meal.
Now every time I cook pasta with saffron, I think of Joe Mashburn and feel incredibly grateful that I was able to bring a little bit of culinary joy into his life.
The pasta is decadent, to say the least, and the saffron flavor takes time to build — so do soak the saffron in cream a day or two before for best results. Rather than buying saffron in tiny portions, I suggest investing in 1/2 or 1 ounce of saffron from a good source such as a Middle Eastern or Indian grocer. There are so many ways to enjoy saffron — add it to rice pilaf or yogurt. Add it to a curry or a stew. Or make a morning tisane by pouring boiling water over a pinch of saffron threads, a stick of cinnamon and a few sprigs of mint or basil. Let it rest for 15 to 20 minutes before drinking.