Rose Halwa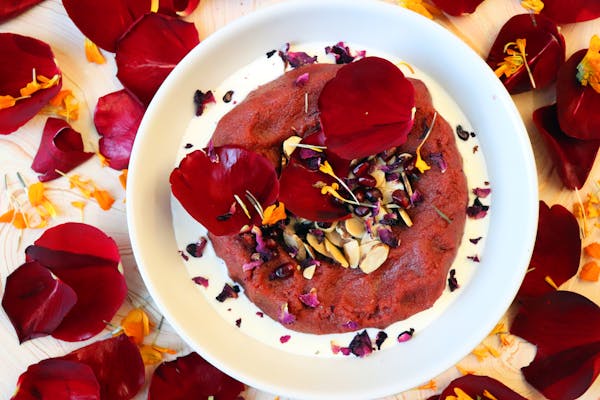 Photo: James Lenhart / Contributor
Halwa may seem traditional to many of us from South Asia, but like so many other foods, it probably came to us via the Persians and Ottoman Turks.
Halwa, halvah or halva, is a confection that has many iterations depending on the provenance, yet the common theme remains that it is a sweet hash made of roasted or fried flour, usually semolina, sweetened with honey, dates or sugar and flavored with aromatic spices such as saffron, cardamom and rose water. If you are using saffron, giving it a day to soak in milk will bring out its flavors even more.
Sometimes, instead of flour, halwa is made from sesame seeds or nuts. I've always suspected that cream of wheat, a popular American breakfast, has roots in halwa — if you like cream of wheat, you will love halwa. The best part is that it is quick and easy to make and tastes delicious warm, at room temperature or cold straight out of the fridge. I added a touch of beet juice to give it a bright-pink color. If you are looking for a sweet start or a finish for Valentine's Day, give this a shot.