Roasted Zucchini with Blossoms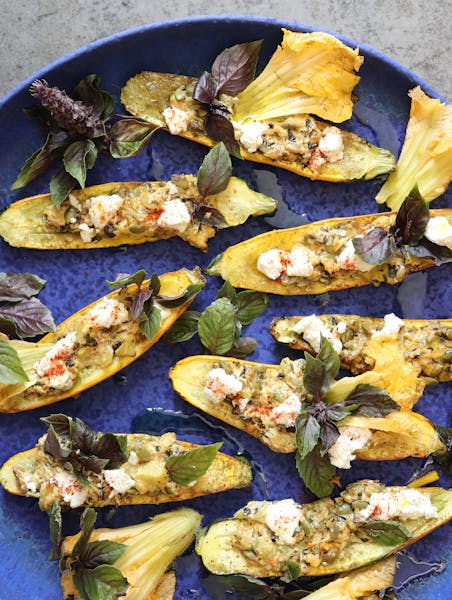 Photo: Ajna Jai / Contributor
Every summer I watch as zucchini flowers — or squash blossoms — appear at farmer's markets. Despite the excitement they evoke and entire menus at some restaurants dedicated to this delicate flower, I often wonder what the fuss is all about. They are visually beautiful but, flavor-wise, for me it's like biting into a wisp with mild zucchini flavor. When I do buy them, they get tossed into salads or used as a garnish for something related.
A couple of weeks ago an old friend, Ben Berryhill, who now owns and operates the Red Drum Café in Charleston, S.C., texted me a photo of the dinner he had prepared for his family: roasted zucchini topped with squash blossoms. Ben was the executive chef at Café Annie back in the late '90s, where I learned everything.
Needless to say, he inspired me to pick up some beautiful, pungent, yellow and green zucchini with bright-yellow blossoms at Gundermann Farms that weekend and cook them in a way to incorporate the blossoms. I still could not taste any real flavor from the blossoms, but it made for a delicious and beautiful lunch, devoured by those around me. Blue Heron Farm's wonderful goat chèvre adds a delicious creamy texture, but feel free to replace it with any cheese of your choice.