Roasted Peach Shitake Salad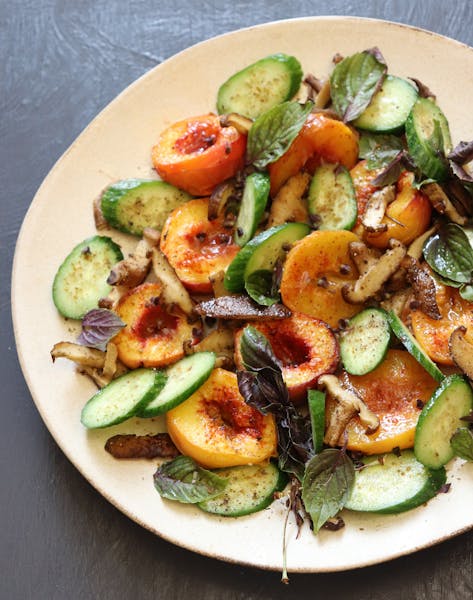 Photo: Ajna Jai / Contributor
We are at the tail end of peach season in Texas, but my bakery's walk-in refrigerator is brimming with them. Farmers show up at our door with boxes and boxes of stone fruit.
Not having much of a sweet tooth, I love to find ways to eat peaches in savory dishes. Sliced into a salad with goat cheese, on top of avocado toast — or I make a simple peach chutney to eat alongside just about anything. We have even made peach naan pizzas, with sprigs of basil to add an aromatic touch.
Grilling or roasting peaches with spices such as crushed coriander seeds, chili or dried mango powder (amchur) is a wonderful way to ramp up their flavor when it's near the end of the season. Drizzle the best olive oil you can get your hands on, and you have a winner. Here is a supremely simple truly local salad made with grilled or roasted peaches, shiitake mushrooms and cucumbers.