Paneer Pot Pie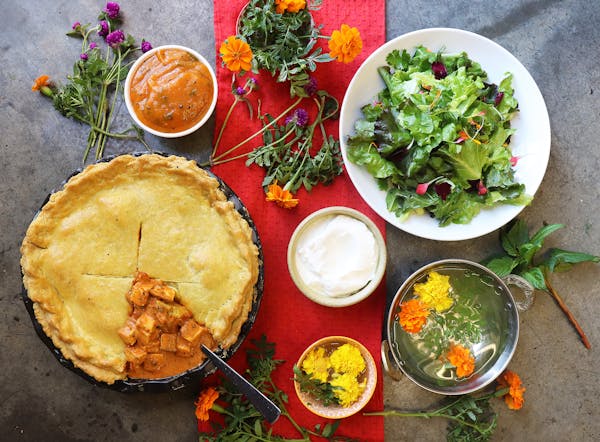 Photo: Ajna Jai / Contributor
This Saturday we celebrate Diwali, the festival of lights that originated in India thousands of years ago. A four- to five-day celebration, Diwali is a little like the Christmas of India, minus the custom of gift-giving, and symbolizes the spiritual victory of light over darkness, good over evil and knowledge over ignorance. According to lore, it is the story of Lord Vishnu's (incarnated as Ram or Krishna, depending on different parts of the country) return to the city of Ayodhya after a wrongful 14-year exile — the inhabitants of the city joyously lit rows of clay lamps to celebrate the return of their beloved king.
I spent my childhood in Gujarat, India, and Diwali was one of my favorite holidays. The fanfare began days earlier when boxes of sweets would begin to arrive from friends or my father's co-workers. To celebrate love and generosity and invoke good luck and fortune into our home, we'd make rangoli designs on the floor just inside the front door — rangoli being a range of traditional handmade folk designs usually with colored powders, rice or lentils. Our parents would surprise us with new outfits to be worn on Diwali day. Two to three nights before, we'd start playing with firecrackers and lighting "diyas," small terra-cotta lamps in which cotton wicks flicker in warm ghee. My mother would order fresh flowers and garlands, and an intoxicating perfume of marigold, tube roses and fragrant jasmine would envelop our home. Even today, when I go into a temple, the aroma of those flowers transports me to childhood joys of Diwali.
Diwali morning we'd eat a light lunch in anticipation of an elaborate dinner that would follow the Laxmi pooja (a prayer ceremony), a common practice in Gujarat. My brothers and I would sit through the pooja with stomachs gurgling, anxiously awaiting the customary dinner of a seven-vegetable stew, pooris (puffy balloon bread) and halwa, a sweet pudding made with whole-wheat flour scented with cardamom.
Living in America many decades later, I don't follow many of those customs at home, but it's still a time for reminiscing, joy and celebration. Depending on whether my now-adult children are with me, we celebrate accordingly. This year, we will make a delicious pot pie filled with paneer with a simple salad of local greens.