Sesame Roasted Carrots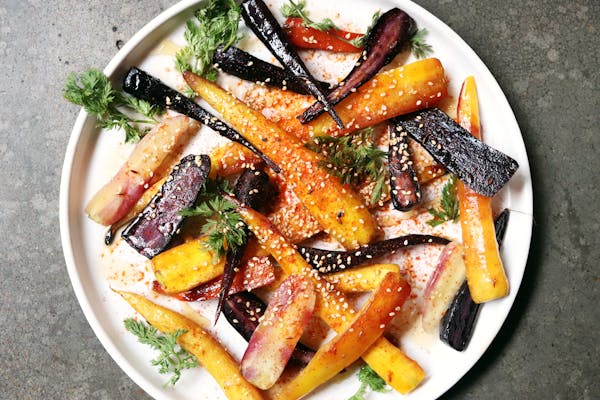 Photo: James Lenhart / Contributor
Drought resistant and cultivated all over the world, the humble sesame seed has been exalted throughout history. The women of Babylon ate the fiber-rich sesame to preserve health and beauty, and the Romans ate the seeds mixed with honey for valor before battles. Used in Ayurveda as medicine for thousands of years, its oil is prized only second to ghee. Plain sesame oil is very commonly used in India not just for cooking but for medicine and massage.
Sesame helps our bodies retain heat, reinforce our blood and strengthen our bones. Being of a warming nature, eating sesame seeds can lubricate our intestines and help with digestion. Sesame jaggery sweets are particularly popular during winter festivals in India.
Every time I visit my Ayurvedic practitioner, she reminds me to chew a handful of sesame seeds daily to help preserve my bones. It's taken me years to build that habit, and now I look for ways to add sesame to my diet. Instead of nuts or cream, I add the seeds to thicken soups or curries and to pastry sauces. Toasted sesame oil has an entirely different and intriguing flavor — though it is great in Asian stir-frys, sometimes I will make popcorn with it or add it to a pilaf.
These glorious multicolored organic carrots from Animal Farm roasted with cumin seeds, toasted sesame oil and a sprinkle of sesame seeds on top can be enjoyed just on their own or tossed into a salad or pilaf. Serve them warm with a drizzle of honey. Don't discard the carrot greens; they make a great addition to a salad or stir-fry.